Who doesn't like a bit of healthy competition? Especially when Santa pops in for a tasty feed. Welcome to...... Antologic's Christmas Cook Up!
On Friday, 6th December, 2019, the girls and boys at Antologic's HQ were surprised by Mr and Mrs Claus.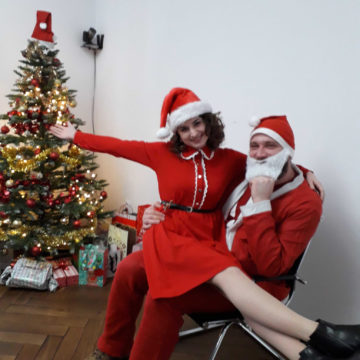 They came armed with gifts for the good girls and boys at Antologic. And boy, were we good…!
But all that gift giving is hungry work! Usually Santa gets a small snack when he visits, so he was surprised that there were no tasty treats laid out for him to eat. So off he went to have a look in the fridge to ease that grumble in his tummy.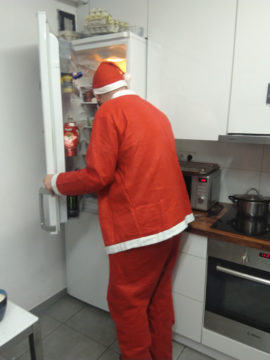 Of course, we would never leave Santa hungry – especially after he'd been so generous! So, thus started our Cooking Competition, an annual cook up by the entire team – from our CEO to the developers, everyone got involved – either cooking, or eating!
The first dish served, was pancakes and bacon, made by our Head of Resources, Tomasz. Of course our new Chief Operations Officer provided a nice drink, with a kick, to help us get through the day…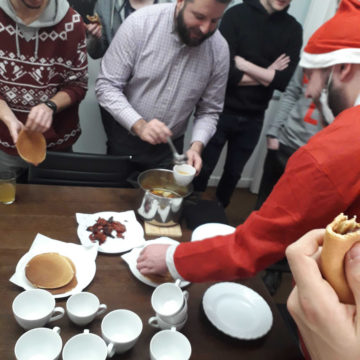 Santa was, of course, the first to dive in! And no surprise. He's a hungry man on a gift-giving mission, after all!
Our second team, Arek and Dawid, whipped up a vegetarian dish. It's Polish name was 'Bezmięsny koszmar Sołtysa' – which literally translate as Sołtys' meatless nightmare.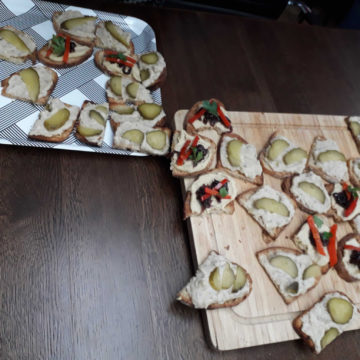 This vegetarian 'Smalec' and hummus topping was far from a nightmare! The full tasting platter didn't even make it to the table. Half were gone in the blink of an eye. More like a meatless dream!
The next level
Our CEO, Bartosz Forysiak, and our newly oppointed COO, Krzysztof Ryk, could not take this challenge lightly. The bosses downed their laptops and phones, headed for the kitchen, and whipped up not one, not two, not even three, but FOUR (that's right, you read right), FOUR different dishes.
Remember the drink with a kick from earlier?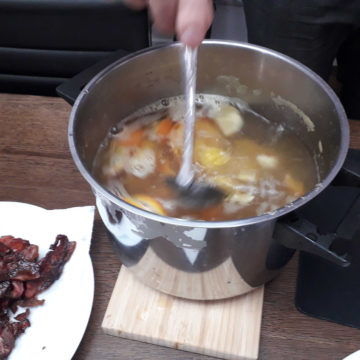 Well, our Chiefs knew what they were doing. With the staff lubricated, and ready for something more, they served up their feast. First up, a mexican curry, with a side of pan fried prawns.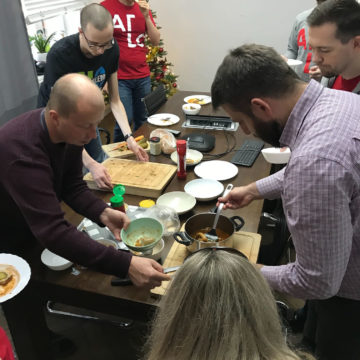 Next up, they prepared a delicious Polish sausage stew.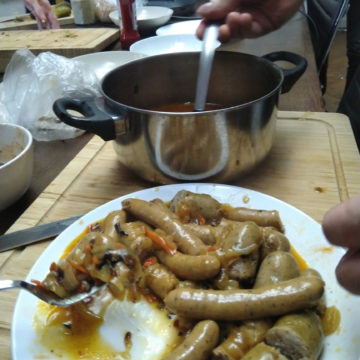 And the help it all go down? Well, Krzysztof had just returned from Scotland, so he brought one of their recipes and served it up. What was it? Deep fried mars bars, to help complete their set, called 'Polsko-meksykańska fantazja na Marsie' (Polish-Mexican fantasy on Mars)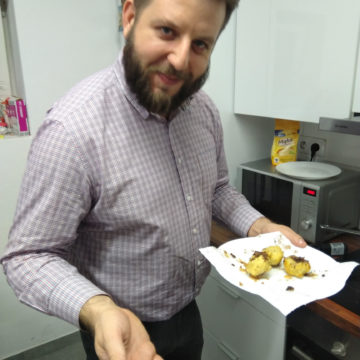 With all that food, you'd think Santa would be satisfied, but Mrs Claus knows best. She took to the kitchen, with her wonderful helper, Rafał.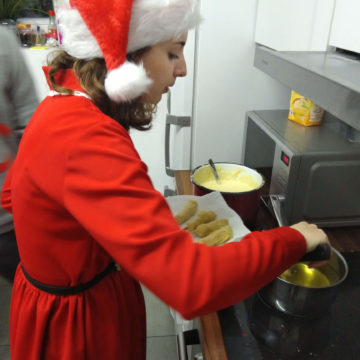 And what did they make? 'Przysmak dzika z patyka w 5-ciu smakach'! Corndogs, cooked to perfection, with a selection of 5 sauces.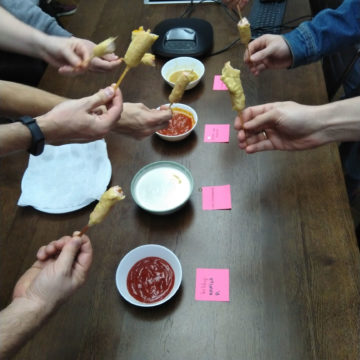 Hungry for more?
You'd think the competition would be over, but Santa sparked some competitiveness in us all. 3 more teams were ready to satisfy Santa with their snacks.
Kamil and Bartek decided to bring some spice back into our lives, with Buritto Bandito! Again, these were so good that they were mostly eaten between the kitchen and the Christmas tree. A testament to the quality cooking of our guys!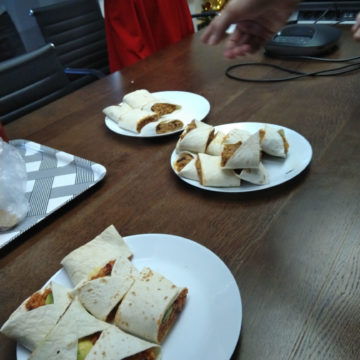 Not to be outdone, the ladies took to the kitchen, bringing a bit of change to the menu. This time, rather than a meal, Agnieszka, Marta and Bayda'a decided to make taster snacks that would be perfect for any get together. They served up goats cheese and caramalised red onion tartlets, some with bacon, and some without.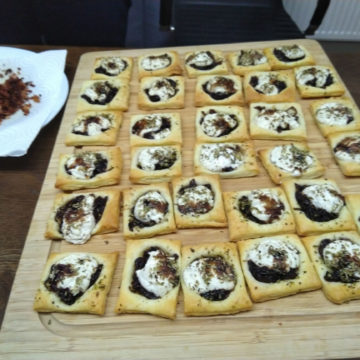 Honestly, the girls thought they had it in the bag. The competition seemed like it was done. But then, out of nowhere, Tomek, one of our Javascript developers, almost stole the show.
He came out with the most impressive platter of sushi that the Antologic crew had ever seen!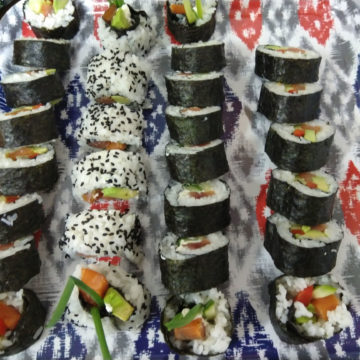 And the winner is….
Fully satisfied, even Santa's special helper felt it necessary to take a nap after all the food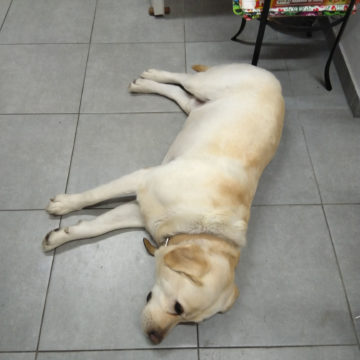 But who would the winner be? Well, we cast our votes, and they've been counted twice.
Tied in 3rd place: Bezmięsny koszmar Sołtysa and Burrito Banditto
In 2nd place (despite their attempts to fill us up with multiple dishes): Polsko-meksykańska fantazja na Marsie
And in first place……
Drumroll please……
Tomek's Sushi platter!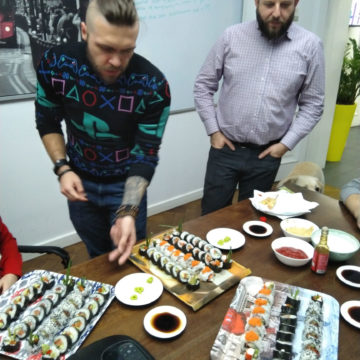 Satisfied and Smiling
So, as with all amazing days, it had to come to an end. We had a little party, fuelled by the food and St Nick's kind gifts.
Christmas has just begun, and there's no better way to celebrate than with good food, surrounded by good company.
At Antologic, we're friends, and a family.
From everyone at Antologic, we would like to wish you a very Merry Christmas.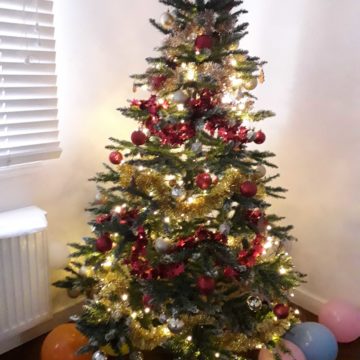 Antologic. Cooking cuisine_