Transforming Travel with Global Adventure Hub
Industry: Smart City, Bespoke
Scope of work: custom_Java
We brought to market an innovative, user-friendly platform supporting travel organizations
In a world where technology continuously reshapes industries, some projects stand out as game-changers, addressing real challenges and improving the world.
Antologic, with its 17-year legacy of over 300 projects, takes pride in steering projects that truly matter. One such remarkable venture is the Global Adventure Hub, a project that embodies the essence of innovation and impact.
Global Adventure Hub's vision was to create, promote, and bring to market an innovative, user-friendly platform supporting travel organizations for micro, small, and medium-sized tourism businesses and independent tour organizers. This vision was born from the personal experiences of the platform's creators, passionate about outdoor activities like rock climbing, skiing, cycling, and more. They knew firsthand the challenges of finding, comparing, and booking adventure experiences.
The travel industry, especially in the active and outdoor segment, faced challenges like fragmented offerings, limited online presence, and manual booking processes. Organizers lacked practical and effective tools for online sales and management, and many relied on social media or personal profiles for bookings.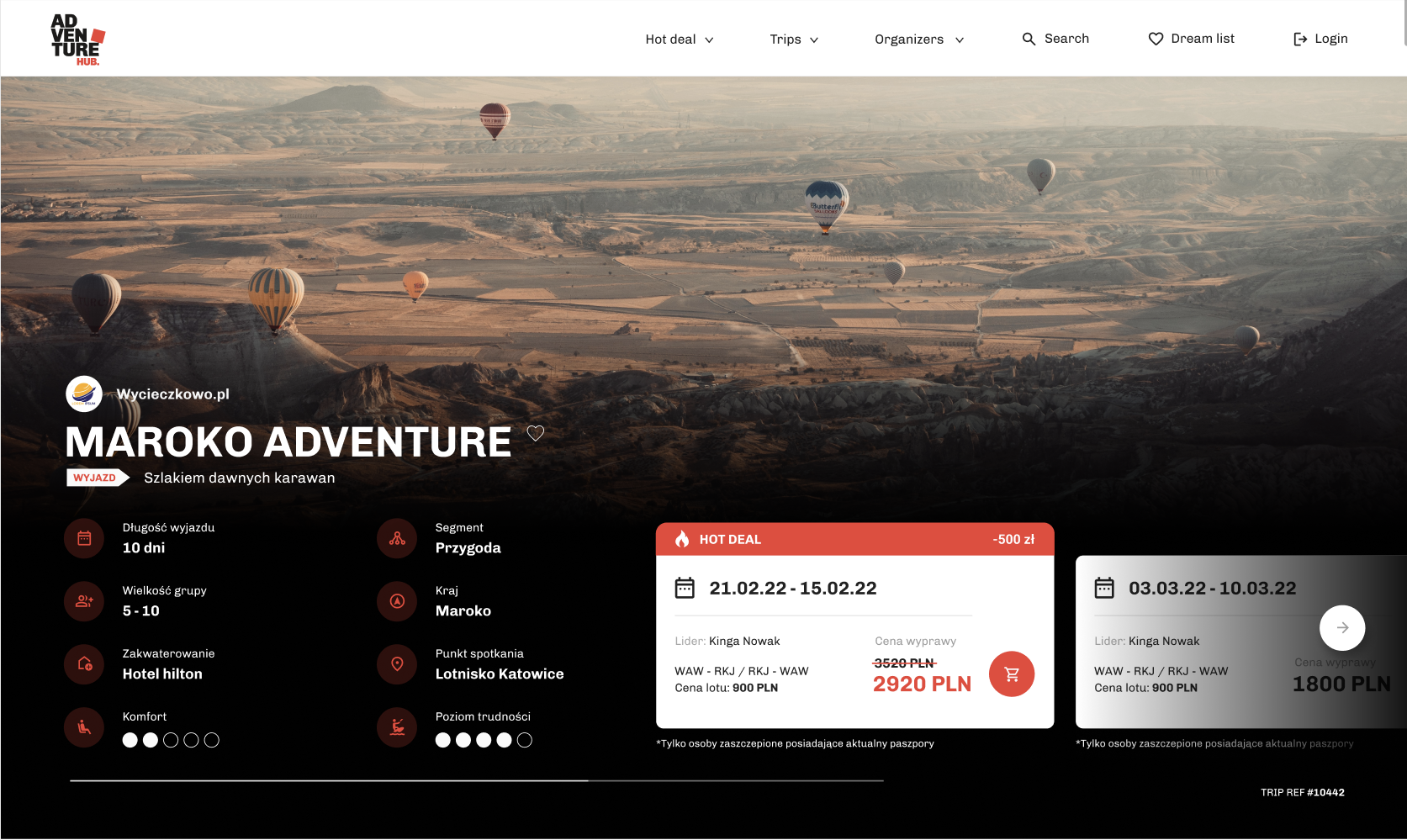 Global Adventure Hub emerged as a two-sided marketplace, catering to both adventure seekers and organizers. It introduced several groundbreaking features.
Diverse Offerings
Imagine having a vast array of adventure options at your fingertips. Global Adventure Hub introduced a diverse, user-friendly platform where enthusiasts could seamlessly explore a multitude of activities. Whether it's hiking through breathtaking landscapes, cycling along scenic routes, or indulging in adrenaline-pumping outdoor sports, this platform made it effortless to discover, compare, and book these experiences. No more endless web searches or frustrating comparisons; everything was now easily accessible in one place.
Safety and Trust
Safety and trust are paramount in adventure travel. Global Adventure Hub addressed this by offering participants financial and organizational security, akin to what traditional travel agencies provide. For adventure seekers, this meant peace of mind knowing that their bookings were secure. At the same time, it gave independent organizers the credibility they needed to attract customers in a highly competitive market.
Simplicity for Organizers
The platform simplified life for adventure organizers. It provided them with an intuitive, user-friendly system for publishing and managing their offerings. Now, even those with limited technical expertise could effortlessly promote their services and connect with a broader audience. This newfound simplicity allowed organizers to focus on what they do best—delivering unforgettable adventures—while the platform took care of the rest.
Flexibility and Creativity
Global Adventure Hub empowered organizers to create intricate offers with ease. Whether it was a guided mountain trek, a series of yoga classes, or a week-long international escapade, the platform offered templates and tools to craft visually stunning, informative listings. Organizers could customize every aspect of their offerings, from pricing and logistics to unique selling points, allowing them to showcase their brand and stand out in a competitive market.
Legal Compliance
Navigating the legal landscape of the travel industry can be challenging. Global Adventure Hub simplified this by ensuring that organizers operated within the boundaries of tourism regulations. The platform helped them meet the necessary legal requirements, eliminating the risk of legal troubles down the road. It was a game-changer, especially for smaller operators who might not have had access to legal expertise otherwise.
Financial Control and Security
Managing the financial aspects of adventure travel is no small feat. Global Adventure Hub provided a robust system for financial oversight, helping organizers maintain healthy cash flows and ensuring transparency in their financial dealings. Additionally, it facilitated seamless participant agreements, further streamlining the booking process and instilling confidence in participants.
Direct Communication and Support
Effective communication is vital for a smooth travel experience. The platform facilitated direct communication between organizers and participants, allowing for the efficient exchange of essential documents and information. It also offered customer service support for both organizers and participants, ensuring that everyone had a helping hand when needed.
Community Building
Building a community around adventure organizers was a key goal. The platform seamlessly integrated with social media, enabling organizers to connect with their audience and receive reviews, which boosted their online presence.

One Year of Dedication
Global Adventure Hub was a year-long endeavor, fueled by the dedication of a talented team. Our squad included:
👉 3 Backend Java Developers
👉 3 Frontend (Vue.js) Developers
👉 1 QA Specialist
👉 1 DevOps Engineer
👉 1 Business Analyst
Together, this exceptional team brought our vision to life, making Global Adventure Hub a reality.
The Impact
Global Adventure Hub wasn't just a project; it was a transformation. It empowered adventure enthusiasts to explore, discover, and book experiences effortlessly. It gave small tourism businesses a competitive edge in the digital world, expanding their reach and credibility. Most importantly, it exemplified how technology could reshape the travel industry, making it safer, more accessible, and enjoyable for everyone involved.
Antologic's journey with Global Adventure Hub underscores its commitment to projects that matter—projects that change lives and industries. As we look to the future, we hope for more ventures that carry the torch of innovation and impact, making the world a better place, one project at a time.
Stay tuned for more inspiring stories of #SoftwareThatMatters, as we continue to pursue projects that change the world for the better. 🌍🚀

#Innovation #TravelTech #AdventureHub #Antologic #TechForGood